Hi everyone,
Thought I would take the opportunity today to show you all my very special Sakura Popover dress! Keep reading for more info on the design and my inspiration, and of course more photos!
Going up to Auckland to compete in Miss Pinup New Zealand was a pretty intense experience! I went up on the Thursday night, spent Friday getting everything together and rehearsing for the pageant, Saturday was the competition, Sunday the second day of VVDO which I was lead to believe I needed to be there for – and finally Monday which was a day to visit all the things in Auckland.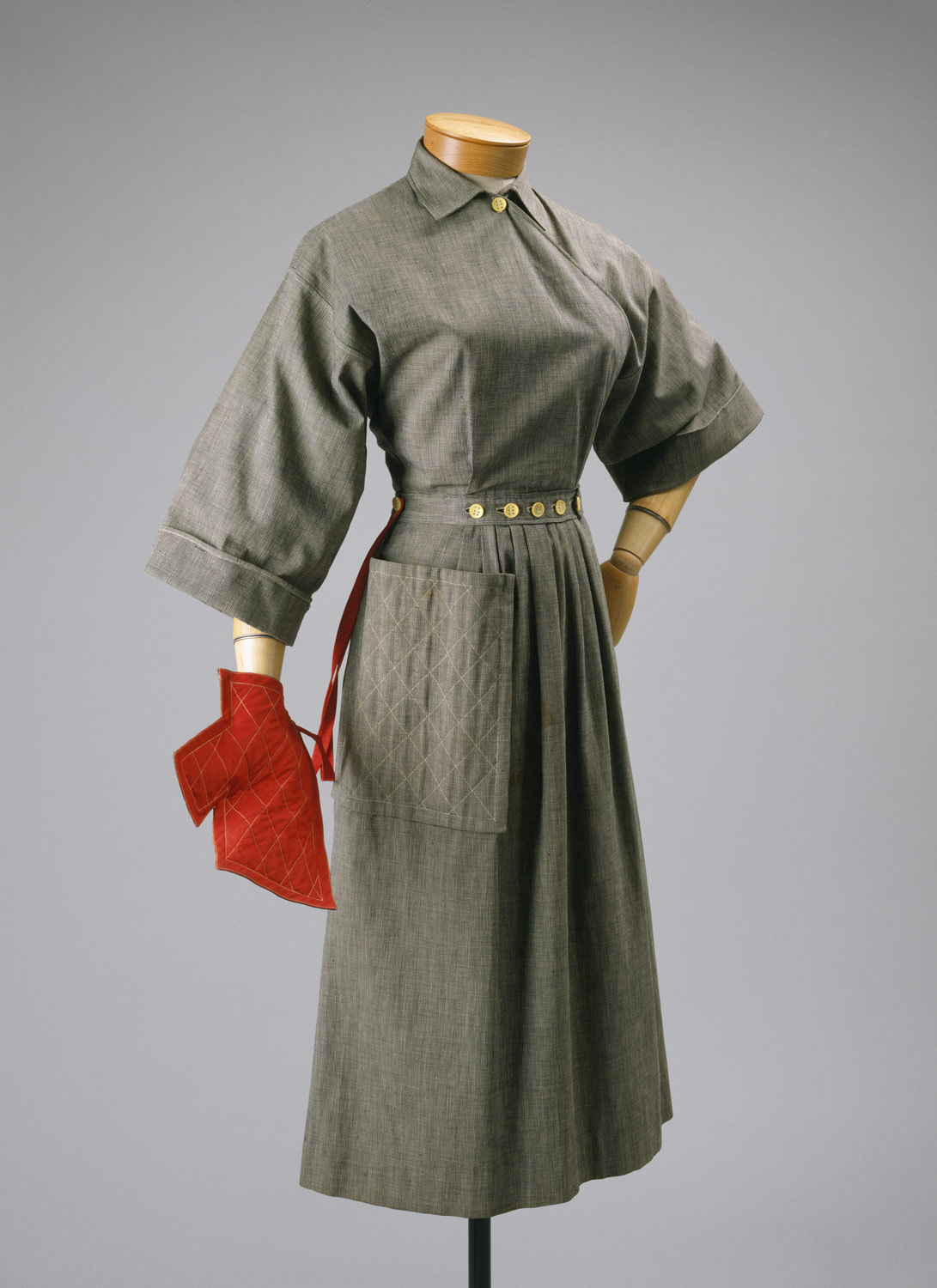 If you weren't at VVDO for my talent section I gave a speech on my favourite designers of the 30's, 40's and 50's while wearing reproductions of their designs. My 40's selection was Claire McCardell and I used her infamous 'popover dress' pictured above for my inspiration.
I ended up taking my partner to Asia Gallery, a store stocking an assortment of Japanese imported things. They had rolls and rolls of beautiful fabrics made for traditional Japanese garments and I knew I just had to treat myself to at least one. I picked this beautiful olive green fabric with soft pink cherry blossom flowers and clouds on it. I didn't realise that it was actually a full kit for, I believe, a yukata. It had 14 metres of the floral fabric, around 8 of pale pink lining and then a few more of a second white lining.
I just knew I had to honour this dress with a special photoshoot at the Botanical Gardens! It's a dress that means a lot to me, it feels like the present I treated myself too after going through the arduousness of Auckland. It really was one of the hardest things I had to do last year, it was extremely emotionally taxing.
I am also very interested in Japan and Japanese culture and have been for so many years! I actually studied the language throughout most of high-school too. It really feels like a blend of my cultural and stylistic interests!
Because the fabric for making Kimonos and Yukatas is so thin I had to really carefully plan out how I was going to use it. The main olive fabric was a mere 14" wide, not really ideal for a circle skirt! I really like how the pleating details turned out, and it doesn't look too out of place.
The colours and this print are really not something I would usually go for, but I couldn't resist how delightfully Japanese it was! I also grew up with a cherry blossom tree and it was always wonderful when it reached that time of year and the ground became littered with tiny pink petals.
I didn't want to pair this dress with standard black pantyhose because I felt like it would have clashed too much. I am wearing a pair of deadstock vintage stockings in this lovely sheer chocolatey colour. The white shoe is also to brighten it up, and the only other shoes I own are black or maroon so here we are!
This style is also so easy to wear. The original dress had many more closures but I didn't have enough fabric to do the full crossover bust. I ended up going with a slight crossover and it only fastens with 3 little buttons! I was disappointed that I couldn't find cherry blossom buttons but these buttons are still the perfect colour!
I can also never say no to a giant pocket! I don't even need to take a bag if I'm just popping out for a lunch or to someone's house which is extremely convenient.
Thank you all for reading this post! It's not often I post about things I've made myself but I think I might start featuring more of my creations I'm proud of in posts like this! Also if this style speaks to you I am definitely open to making another reproduction 😉
Bonus! Here's me enjoying my traditional reproduction of the popover dress and it's glorious sleeves!